Raksha Bandhan in 2021
Muhurat: 06:14:56 to 17:33:39
The Raksha Bandhan 2021 date is 22nd August. This festival is a very famous festival celebrated by Hindus on the day of Shravan Poornima i.e. the full moon day, it is also known as Rakhi Purnima. It is celebrated in all parts of India with full joy and happiness. On this festival, brothers and sisters celebrate their sacred bond of love and protection.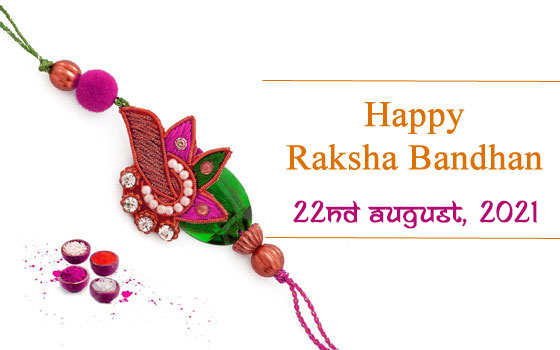 Significance of Raksha Bandhan
Raksha Bandhan is having a very great significance for siblings. It provides strength and power to the relationship between brother and sister. Sisters pray for their brother's long life and joyfulness, in return brothers give a promise of providing a secure life to their sisters. Raksha Bandhan also depicts a new and fresh change for everyone. It comes in the monsoon season that takes away all the impurities from our life and make our life pure.
Legends Behind Raksha Bandhan
Legend of Lord Krishna and Draupadi
This legend is from the times of Mahabharata when Draupadi, the daughter of king Drupad and also wife of five Pandavas tied her saree cloth on the wound of Lord Krishna. Lord Krishna was very much touched by Draupadi's care and declared her as his rakhi-sister. He promised Draupadi to protect her from the evils. He repaid Draupadi by providing protection to her in the court of Kauravas when they tried to insult Draupadi by taking out her saree in front of the courteers.
Legend of King Bali and Goddess Laxmi
This legend is related to King Bali who was a great devotee of Lord Vishnu. For his devotion Lord Vishnu provided protection to Bali's kingdom and remain there only. For this, Lord Vishnu left his living place Vaikunth. But by this decision his wife Goddess Laxmi became very sad. She took shelter in King Bali's kingdom and approached to him as a Brahmin woman. When Shravan Poornima celebrations were going on she tied a thread on the wrist of King Bali and revealed her truth in front of him. She also told about the reason of her being there. King Bali was very much touched by the goodwill of Lord Vishnu and Goddess Laxmi and requested Lord to go back to his living place Vaikunth. King Bali sacrificed his whole kingdom for his Lord and Goddess.
Legend of Lord Yama and Yamuna
This legend is related to Lord Yama and and his sister Yamuna. Yamuna tied a thread on the wrist of Lord Yama and gifted immortality to him. Since that day Lord Yama promised to everyone that whoever have the sacred Rakhi thread tied on his wrist and provide protection to her sister will become immortal.
Raksha Bandhan SMS and Text Messages
Rishta hai janmo ka hamara
Bharose ka aur pyaar bhara
Chalo, ise bandhe bhaiya Rakhi ke atut bandhan mein.
Happy Raksha Bandhan to my dearest bro.
Ye Lamha Kuch Khas Hai,
Behan Ke Hathon Mein Bhai Ka Haath Hai,
O Behna Tere Liye Mere Pass Kuch Khas Hai,
Tere Sukoon Ki Khatir Meri Behna,
Tera Bhai Hamesha Tere Sath Hai...
Neend apni bhula kar sulaye humko,
Aansu apne gira ker hasaye sabko,
Dard kabhi na dena us devi ke avtar ko,
Jamana jise kehta hai bhain jisko,
Happy Raksha Bandhan sweet Sis...
Sath pale aur sath bhade hain
Khoob mila bachpan mein pyar
Bhai bhain ka pyar bhadane
Aaya rakhi ka tyohar
Happy Raksha Bandhan Festival...
Chawal Ki Khushbu Or Kesar Ka Singar
Bhaal Tilak Or Khusiyo Ki Bauchar
Behno Ka Sath Or Besumar Pyar
MUBARAK Ho Apko Raakhi Ka Tyohar...
Kya Bataoon Yaar Meri Kismat Ki Kahani
Kuch Is tarah Likhi Gai
Jin Hatho Se Gulab Dena Chaha Tha
Unhi hatho me vo Rakhi Bandhkar Chali Gai.
I wish u "HAPPY RAKHI" and
I pray to God for ur prosperous life.
May you find all the delights of life,
may ur all dreams come true.
My best wishes will always be with you
and I wish that u'll always shower your blessings on me.
This msg is for the most wonderful
sisters of this world - badi - chhoti.
Thank u didi for always being there on my
side and for helping me in those infinite
ways which I cannot even remember...
Jhula Bahon Ka Aaj Bhi Do Na Mujhe
Jhula Bahon Ka Aaj Bhi Do Na Mujhe
Bhaiyaa Goud Mein Uthao Na Aaj Mujhe
Kad Se Hoon Badi Mann Se Chhoti Main
Aaj Bhi Maan Lo Na Zid Meri.
Rakhi Day is the day when special people
like u r thought of fondly with luv & cheer.
Hope every hour of this special day is filled with moments,
that will bring happiness for you.
Never ever thought we will not be together this day. I am really missing you
very much. The Rakhi you send is very good, it's looking great on my wrist. I
just pray that we will be together on every Rakhi from next year.
Cham Cham kar ke aayi,
Cham Cham kar ke chali gayi,
Main Sindoor leke khada raha,
Aur woh rakhi ban ke chali gayi...
Aaj din bohot khaas hai,
Behna k liye kuch mere paas hai,
Uske sukun ki khaatir o behnaa..
Tera bhaiya hamesha tere aas-paas hai !!
Khuda Kare Tujhe Khushiyan Hazaar Mile,
Mujhse Bhi Achcha Yaar Mile,
Meri Girlfriend Tujhe Bandhe RAKHI,
Aur Ek AUR Behan Ka Pyaar Mile...
Rituals of Raksha Bandhan
The rituals of Raksha Bandhan start from the shopping of different colourful rakhis and new clothes. On the day of Shravan Poornima people start preparing for the rituals of Raksha Bandhan. Sisters prepare pooja thali which consists of rakhi thread, rice, kumkum, diya, and water. First of all sisters does aarti and then puts tika and rice on brother's forehead. Then sister ties rakhi on the wrist of brother and give sweets to him. In return brother offers gifts and promise protection to his sister.
Our team of Astrorashifal hopes that this article on Raksha Bandhan 2021 will help you a lot to commemorate this event completely and could solve out your enquiries regarding this upcoming festival.
---
Know more festivals of 2021