Chhath Puja 2016 - Chhath puja dates 2016
The dates of Chhath Puja in 2016 are from November 4 to November 7. Chhath Puja is considered as one of the most famous and the most ancient Hindu festival celebrated very enthusiastically in the Eastern Indian states of Bihar and Jharkhand. But, now it has gain popularity in other parts of India also. This festival is considered to be the only vedic festival celebrated by the people of India. Chhath festival is observed for four days in the Hindu month of Kartik (October-November). This special festival is dedicated to Sun God and Puja (Religous practice) is done to get His blessings for long life, happiness and prosperity. Chhath Puja festival is also famous as Chhathi Maiya, Chhath Shashthi, Surya Shashthi, Chhath Parv.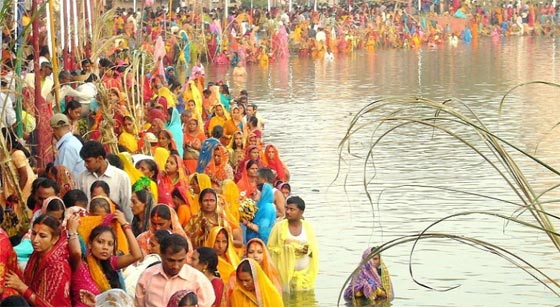 Shraddh is one way for people to pay homage to their ancestors and show thankfulness to them. People pay honor to their ancestors for whatever good they have done for them. Shraddh comes every year, on which people perform Tarpan rituals for their forefathers. This 16 days timeperiod are dedicated to Shraddh and have great importance.
Chhath Puja Dates 2016
| Date | Day | Event | Hindu Calendar Tithi |
| --- | --- | --- | --- |
| November 4 | Friday | Nahai Khai | Chaturthi |
| November 5 | Saturday | Kharna | Panchami |
| November 6 | Sunday | Sandhya Argh | Shashthi |
| November 7 | Monday | Suryodaya Argh | Saptami |
Legend of Chhath Puja
Chhath Puja has various legends associated with it. Let's have a look on some of them.
One story is associated with King Priyabrat and his wife Malini. The couple was happy except one worry of being childless. They both reached Maharishi Kashyap and along with his help performed a Yagna to have a child. With the effect of this Yagna, Rani Malini got pregnant, but unfortunately gave birth to a dead child. Seeing this,King Priyabrat decided to do suicide. Suddenly, Manas Kanya Devsena appeared and told him that She is Goddess Khashti - the incarnation of sixth part of the universe. She told him to worship Her with full dedication and pure heart for six days. They will surely be blessed with a child. The couple does the same as told and got blessed with a child. Since then, people started worshipping Chhathi Maiya and celebrate Chhath Puja.
Another story is related to Pandavas. When they were staying in the forest and going through tough time, Draupadi started crying on their misery. On seeing this, Yudhishthir goes to Rishi Dhoumya and asked for some help. He told him to worship the Sun God with pure heart on the sixth and seventh day of fortnight of Shukla Paksha of Kartik month. He does the same and get rewarded by the Sun God with a magical copper vessel that could cook four types of food for them and provide a meal for everyone. They all came out of their hard times. Since then, it is considered that worshipping Sun God will help to come out of all miseries and sufferings.
Chhath Puja Celebrations
Chhath Puja is a four day festival with different rituals to be followed each day by the people. Let's go through the rituals for each day:
1. Nahai Khai(Bath and eat): First day of Chhath Puja 2016
On this first day of festival, the devotees take bath in a holy water body, specially river Ganga, and wash away all their sins. After worshipping Lord Surya, the holy water is brought to home to prepare food offerings for Lord Surya. This meal consist of pumpkin, bottle gourd and moong-chana daal.
2. Kharna: Second day of Chhath Puja 2016
On the second day, devotees observe fast for the whole day(almost 8 to 12 hours). Nor eating neither drinking water is allowed before sunset and after doing Surya Puja.
3. Sandhya Argha: Third day of Chhath Puja 2016
People spend this day in preparing food offerings. In the evening, the devotees along with their family members gather along the riverside. Their they worship and offer food to the setting sun.
4. Suryodaya Argha: Fourth day of Chhath Puja 2016
On this last day of Chhath puja, people along with their family members gather at the bank of river, recite Chhath folk songs and waits for the sunrise. After worshipping Lord Surya, devotees end their 36 hour long fast fast with ginger and sugar or ginger and water.
We hope that this article will be very helpful in understanding the Chhath festival 2016. We wishes you all a very Happy Chhath Puja 2016.
---
Know more festivals of 2017