Hanuman Jayanti 2021 Date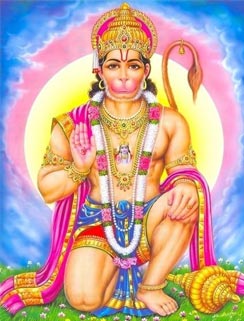 This year Birthday of Hindu Lord Hanuman will be celebrated on 27th April in 2021 by his vast number of followers.
What is Hanuman Jayanti?
Birthday of Hindu Lord Hanuman will be celebrated on 27th April in 2021 by his vast number of followers. This day is known as Hanuman Jayanti or Hanumath Jayanti also. All the followers of Vanara God, Hanuman celebrates it with full beliefs to forego their worries and problems.

Hanumath Jayanti or Hanuman Jayanti is celebrated on the day of Chaitra Purnima (the Full Moon day). Hanuman, who is son of Anjana and Kesari, is also known as Mahavira or Bajrangbali and is considered as the God who takes away all pains from his believers. Pawan Deva (the deity of winds) played an important role in the birth of Bajrangbali that is why lord Hanuman is also known as Pawansuta Hanuman. Lord Hanuman is worshipped not even in India, but all over the world.
Lord Hanuman: An epitome of Lord Shiva
Sankat Mochan Hanuman is considered as the 11th Rudra Avatar. It is being believed that Lord Shiva took avatar in the form of human to serve Lord Rama and his wife Sita, on Earth. Hanuman was a very strong follower of Lord Rama and fought with him against Ravana to rescue Sita from him. Pawanputra Hanuman fulfilled his duties toward Lord Rama in such a manner that his name is being attached with Lord Rama always. Hanuman is considered as a symbol of power, energy, faithfulness, wisdom, and many more qualities.
Association of Sindoori color with Lord Hanuman
The reason behind reddish orange colour of the idols of Bajrangbali is that when he was born in Vanara community, he was of reddish orange colour. Another reason that lies in a story is taken from Ramayana. Hanuman was sitting near Sita who was applying Sindoor on her forehead. Hanuman asked her the reason of applying it. She told him that it will prolong the life of Lord Rama. Listening to that, Bajrangbali coated his whole body with Sindoor to lengthen the life of his master.
Religious ceremony on Hanuman Jayanti
On the day of Hanuman Jayanti people usually take holy bath and visit Lord Hanuman's temples. Aartis and Pujas are done in temples by the disciples of Lord Hanuman. People read Hanuman Chalisa, do Tilaks with Sindoor on their foreheads and distribute Laddoos in the form of Prashad to other devotees. Hanuman Chalisa is considered to be a protection by the evil spirits and pains & griefs.

The other pursuit on Hanuman Jayanti is the Puja items that you must have in your Thali for Puja. These following items are a must to be in the Thali, however there are other items as well.

Puja items for Hanuman Jayanti
Red cloth
Idol of Lord Hanuman
Sindoor
Deepak or Diya
Flowers
Betel nut
Tulsi leaves
Incense sticks and Dhoop Batti
Rice
Mustard oil
Our team of astrorashifal hopes that this article on Hanuman jayanti 2021 will help you a lot to commemorate this event fully and could solve out your enquiries regarding this upcoming festival.
---
Know more festivals of 2021