Holi in 2017 - Holi 2017 Dates
Holi is known as the most fascinating Indian festival that is awaited by everyone. This festival of colors is rich in hues, radiance and variety of traditions. The Holi festival on 2017 will be on March 13 saying a good bye to chilling winters and welcoming the warm summers. It is celebrated on the full moon day of the Hindu month Phalgun.
Holi 2017 Dates
March 13, 2017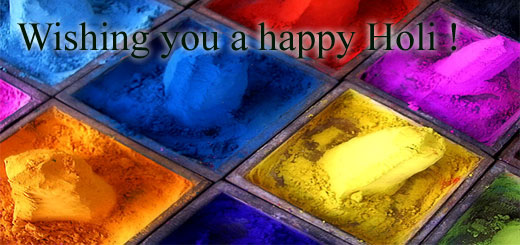 It is counted as one of the major festival of Hindus. Holi is celebrated with full energy, zeal, and passion not only in India but around the sphere. Different colors make it more interesting and joyful for the people.
Legend behind Holi Festival
The story behind the commemoration of this festival is very interesting. A cruel king named Hiranyakashyap who was the conqueror of the whole earth at that time. He forced people to worship him as their Lord. But, his ego was ruined by his own son, Prahlad.
Prahlad refused to accept him as a God and became a strong follower of Lord Vishnu. Hiranyakashyap tried a lot to bring his son out of this belief but he failed to do so. He asked his sister to fulfill his demand and commanded her to kill Prahlad. Her sister, Holika wore a shawl that could stop fire from hurting her and she sat on the pyre along with Prahlad. But, by the grace of Lord Vishnu Prahlad was saved by fire and Holika was burnt completely. From that very day, Holi is celebrated in the remembrance of victory of good on evil and Holika Dahan became the essential part of this festival.
Holi : Festival of Dual Enjoyment
Jollification of Holi continues for 2 days. The first day is celebrated as Holika Dahan that consists of the arrangement of bonfire in night. A heap of wooden logs, cow dung cakes along with the wheat grains are burnt together. All the people complete take a round of the bonfire.
The next day is the day of colors and called as Dhulendi. Everyone enjoy this day with full gusto and passion. All the children, youngsters and even aged ones put colors on each other's faces. Young ones take the blessings of elders on this day. Everyone dance to their fullest and feel the enjoyment by heart.
Celebrations of Holi Festival
The spirit of Holi fills everyone with joy and fun. This could be well seen in the way people celebrate this festival of colors at a huge scale. Let's take a look at how Holi is celebrated in India:
Holi celebrations in Barsana (Uttar Pradesh):
A small town in Uttar Pradesh named Barsana that's located near Mathura is well known for its Lath Mar Holi. Here, people gather in the compound of famous temple called Radha Rani temple. A huge crowd attends this special occasion. As per the tradition of Lath mar Holi, women use sticks to beat men and they have to defend themselves. Males also provoke women by singing songs in order to grab their attention.
Holi Celebrations in Punjab:
The celebrations of Holi in Punjab are also unique in their own way. The festivity of this day also begins with Holika Dahan. The next day is then celebrated with colors and the walls, houses and courtyards could be seen decorated in colorful manner. Women make Rangolis to make the festival been more colorful.
Wishing you a very HAPPY HOLI 2017!
---
Know more festivals of 2021