Chaitra Navratri 2021 Dates (Vasant Navratri)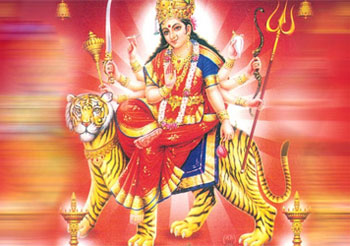 Chaitra Navratri or Vasant Navratri, is a nine day festival which starts on the first day Indian Luni - Solar calendar and celebrated in the month of March or April. It got its name from the first month of Hindu lunar calendar i.e. Chaitra and that is why it is called Chaitra Navratri. According to English calendar it occurs in late March or early April. In most parts of India it is considered as the beginning of a new year for the Hindu calendar.
Chaitra navratri 2021
Chaitra Navratri consists of nine nights that are devoted to the nine forms of Goddess Shakti. Over these nine nights the rituals followed are almost the same as for Shardiya Navratri which falls in the month of September or October. The ninth day of Chaitra Navratri is celebrated as the birthday of Lord Ram, hence from there only it got its another name i.e. Ram Navami. Chaitra Navratri festival is celebrated with full joy and happiness in northern India. Gudi Padwa in Maharashtra and Ugadi in Andhra Pradesh marks the beginning of Chaitra Navratri.
Chaitra Navratri dates in 2021 are from 28th March to 05th April. It is a nine days festival falling in the first month of Hindu calendar i.e.Chaitra. It has many other names like Vasant Navratri or Basant Navratri or Ram Navami. It is celebrated during Basant ritu. The legend behind Chaitra Navratri is of Prince Sudarshan that how he gratified the Divine Goddess and got blessed from Her and gained success due to Her blessings. On the eighth or ninth day of Chaitra Navratri people feed little girls who are below the age of nine. These girls are called Kanjaks or Kanyas and considered as the symbol of Goddess Durga. Gifts and money are also offered to these kanyas.
Day 1 (13th April 2021): Pratipada or Kalash Sthapna and Shailaputri Puja
Day 2 (14th April 2021): Brahmacharini Puja (Dwitiya)
Day 3 (15th April 2021): Maa Chandraghanta Puja (Tritiya)
Day 4 (16th April 2021): Kushmanda Puja (Chaturthi)
Day 5 (17th April 2021): Skandamata Puja (Panchami)
Day 6 (18th April 2021): Kathyayani Puja (Shashthi)
Day 7 (19th April 2021): Kaalratri Puja (Saptami)
Day 8 (20th April 2021): Maha Gauri Puja (Ashtami)
Day 9 (21st April 2021): Maa Siddhidatri Puja Ram Navmi (Navmi)
The first day of Chaitra Navratri starts with Ghatasthapana puja, on second day Sindhara puja is done, on third day Gaur Teej is celebrated, on fourth day Varadvinayak chaturthi is there, on fifth day Naag puja and Lakshmi Panchami is celebrated, on sixth day Skand Shashthi and Yamuna Chhath is there, on seventh day Maha Saptami is celebrated, on eighth day Durga Ashtami and Mahagauri puja is there and on ninth day the Chaitra Navratri ends with Ram Navami.
We hope that this information will be helpful to get to know about Chaitra Navratri 2021 and you will be able to perform all the rituals whole heartedly.
---
Know more festivals of 2021