Navratri 2021 Dates - Sharad Navratri 2021 - Vasant Navratri 2021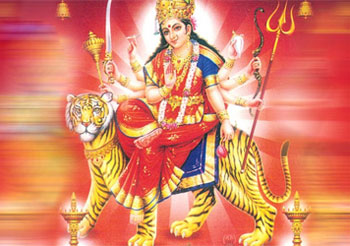 What is Navratri?
Navratri is a very famous festival celebrated by Hindu community. Navratri's literal meaning is "nine nights". These nine sacred nights are dedicated to Goddess Durga (also known as Shakti). Navratri is celebrated five times in a year. Let us see what are they and when they are celebrated:
When is Navratri in 2021
| Navratri | Dates |
| --- | --- |
| Paush Gupt or Shakambhari Navratri | February 12, 2021 to February 21, 2021 |
| Ashadha Gupt or Gayatri Navratri | July 11 to July 19, 2021 |
| Chaitra or Vasant Navratri | April 13 to April 22, 2021 |
| Shardiya or Maha Navratri | October 7 to October 15, 2021 |
Sharad navratri 2021:
This year Sharad Navratri will start on October 7, 2021 and ends on October 15, 2021.
Ghatsthapana - October 7, 2021
Maa Brahmacharini - October 8, 2021
Maa Chandraghanta Puja - October 9, 2021
Maa Kushmanda Puja - October 10, 2021
Skandamata Puja - October 11, 2021
Katyayani Puja - October 12, 2021
Kalaratri Puja - October 13, 2021
Maa MahaGauri Puja - October 14, 2021
Maa Siddhidatri Puja - October 15, 2021
Vijay Dashmi - October 16, 2021
Chaitra navratri 2021:
This year Chaitra navratri or Vasant navratri will start on March 28, 2021 and ends on April 05, 2021.
Chaitra Navratri or Vasant Navratri is the upcoming navratri and starting in the third quarter of this month. During this navratri the nine days are divided among the nine forms of Goddess Durga and are worshipped each day accordingly:
Day 1 (13th April 2021): Pratipada or Kalash Sthapna and Shailaputri Puja
Day 2 (14th April 2021): Brahmacharini Puja (Dwitiya)
Day 3 (15th April 2021): Maa Chandraghanta Puja (Tritiya)
Day 4 (16th April 2021): Kushmanda Puja (Chaturthi)
Day 5 (17th April 2021): Skandamata Puja (Panchami)
Day 6 (18th April 2021): Kathyayani Puja (Shashthi)
Day 7 (19th April 2021): Kaalratri Puja (Saptami)
Day 8 (20th April 2021): Maha Gauri Puja (Ashtami)
Day 9 (21st April 2021): Maa Siddhidatri Puja Ram Navmi (Navmi)
Legend behind the Chaitra Navratri:
The story that calls for the celebration of Chaitra Navratri is of Prince Sudarshan. Prince Sudarshan who was son of King Dhruvasindu, unintentionally repeated the Beej mantra of the Divine Goddess and was adored by her. After the death of King Dhruvasindu , King Yudhajit of Ujjain attacked his kingdom and had a fight with King Virsena of Kalinga. King Yudhajit won the battle and Queen Manorma, who was the mother of Prince Sudarshan and daughter of King Virsena, had to leave that place along with Sudarshan and a Eunuch. She took the help of Rishi Bhardwaj and stayed in his Ashram. There only, Prince Sudarshan heard the name of eunuch in Sanskrit i.e. Kleeba and misunderstood it with Kleem. Prince Sudarshan started repeating it and thus gratified the Divine Goddess and was blessed by her with godly and endless weapons.
Prince Sudarshan grew up and attended the Swayamvar of Princess Shashikala, who was the daughter of King of Banaras. The Princess chosen Prince Sudarshan as his husband and they both got married. When King Yudhajit came to know about this, he attacked on Banaras. But, Prince Sudarshan got the help of Divine Goddess, who totally ruined the army of King Yudhajit along with him. The Prince was throned as the king of his father's kingdom and performed a Yagna in the dignity of the Divine Goddess during Chaitra Navratri.
Hopefully, this article on Chaitra Navratri 2017 will help you in the best possible way and will leave you in good spirits to celebrate this auspicious festival of nine days.
---
Know more festivals of 2021